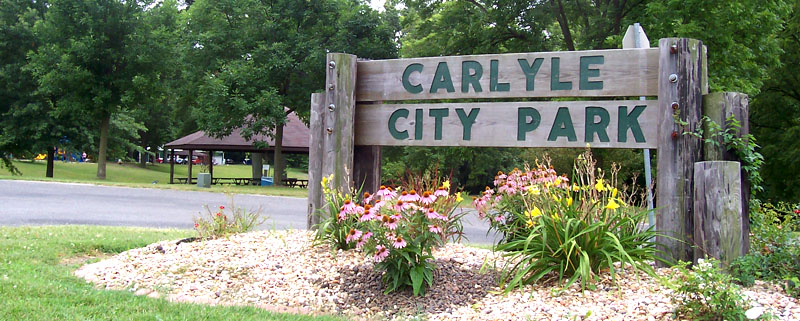 The Carlyle Parks Department maintains five separate park facilities with a full-size pool, baseball diamonds, tennis courts, a Frisbee golf course, a stocked fishing pond for children, pavilions, and three separate, fully-equipped playgrounds.
The Parks Department operates the Carlyle City Park, the Fish Hatchery Park
and Bruemmer Park.
The Carlyle City Park is located at 1096 Lake Road.  It is home to the City Pool, a nine "hole" Frisbee course, tennis courts and a public baseball diamond. There is a playground and four pavilions available for public use.  The City Pool is open from Memorial Day to Labor Day and can be reached by phone at 618-594-5209.  Visit the Public Pools page for more details.
The Fish Hatchery Park has a playground and an enclosed pavilion available for use by the public for parties and get-togethers.  Catch and Release Fishing is available at the Fish Hatchery Pond for children 14 & under with adult supervision.
Bruemmer Park is also home to playgrounds.
For more information on the Parks Department call 618-594-5205.
Pavilion Rentals
The City of Carlyle has different park shelters available for birthday parties, reunions, and other celebrations! Pavilion rentals are available at the City Park, Fish Hatchery & Grade School.
Please contact City Hall at 618-594-2468 for any questions about pavilion rentals.
To make a reservation, fill out the Park Shelter Reservation Application & pay a deposit to City Hall.
Download Here
Park Shelter Reservation Policy
Download Here
City Park Events
Throughout the year the Parks Department organizes sports programs for children. Visit the Sports/Camps page for more details… Learn More
Be sure to visit the Carlyle City Park during the winter as we light the park with thousands of strands of lights to help celebrate Christmas in Carlyle.  We especially light the park during the fireworks display after the Christmas Parade.  Follow the link for more information on
Christmas in Carlyle… Learn More