The Fish Hatchery Park is home to the Carlyle Community Dog Park.  This two-acre off-leash park offers residents and their canine friends a place to have fun together and an opportunity to create many community benefits by:
•  Socializing and exercising dogs in a safe environment
•  Promoting responsible pet ownership
•  Enabling dogs to legally run off-leash
•  Promoting public health and safety
There are many ways to contribute to the only off-leash dog park in Carlyle:
•  Engraved Memorial Bone – $25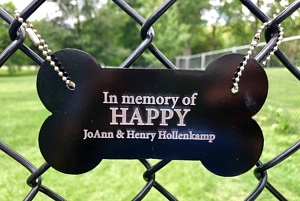 •  Name on Obstacle – $500
•  Leash Holder – $1,000
•  Trash Receptacle – $1,500
•  Bench – $2,000
•  Picnic Table – $2,500
•  Dog Watering Station – $3,000
Please fill out the form below to make your donation to the Carlyle Community Dog Park.
Dog Park Rules
Park is open from dawn until dusk.
Aggressive dogs, dogs in heat, sick dogs and dogs under the age of 4 months are strictly prohibited. You must immediately leash and remove your dog from the park at the first sign of hostile behavior.
All dogs must be up to date on vaccinations and wear their current tags.
Pick up all dog waste and dispose in the receptacles immediately. Fill any holes your dog may dig.
Dogs must be leased until inside the park and returned to a leash prior to exiting.  Choke collars and spike collars are prohibited.
Dogs should be under control of their handler at all times. Handlers are responsible for any injuries caused by their dog.
Handlers must be an adult and should have no more than 2 dogs per visit. To ensure safety, no children under the age of 12 are allowed inside the fenced area.
No human food, glass bottles or rawhide treats in the area.  Training treats are allowed. Please do not litter in the park.
Use this facility at your own risk. Understand your dog's behavior and act appropriately. The City of Carlyle is not liable for any property damage, physical injury or pet injury occurring while using this facility.
Dog Park Tips
Understand your dog's behavior – pay close attention to your dog's interactions with other dogs.  Watch for these aggressive behavior signs:

Pulling back or flattened ears
Snapping and snarling
Cornering, crowding or charging other dogs

Aggressive dogs are not permitted in the park! If your dog has a tendency for aggressive behavior, do not enter.
If you have a large dog that doesn't do well with small dogs and the park is full of small dogs, come back another time.
Ensure your dog is well trained and responds to your commands. It is a good idea to exercise your dog before entering an off leash park so they do not enter over-excited. Overly energetic behavior many not be welcomed by all dogs at the park.
Use good judgement. The dog park is meant to be a safe place for dogs to exercise and socialize with other dogs. If your dog or another dog in the park is showing signs of aggressive or fearful behavior, leave before a confrontation ensues. Supervise your dog at all times and take not of other dogs' behavior.
Always pick up after your dog and keep the park clean!!