Interstates
Carlyle is conveniently located between three Interstates.
• Interstate 70 (St. Louis, MO & Indianapolis, IN) is approximately 18 miles to the north
• Interstate 64 (St. Louis, MO & Louisville, KY) is approximately 15 miles to the south
• Interstate 57 (Chicago, IL & Cairo, IL) is approximately 23 miles to the east
---
Highways
State Route 127 and U.S. Route 50 intersect near Carlyle's downtown district.
IDOT reports Average Daily Traffic (ADT):
The stretch of State Route 127, between "New" and "Old" U.S. Route 50 that lies within the City of Carlyle, has an ADT count as high as 10,400.
"Old" U.S. Route 50 (Franklin Street) in Carlyle has an ADT as high as 9,200.
---
South Central Transit
The Mission of South Central Transit (SCT) is to provide safe, reliable and cost-effective public transportation to the citizens of the communities they serve. SCT has offices located in Breese, Centralia, Mt. Vernon, Du Quion, and West Frankfort.
The Clinton County, Purple Martin Shuttle has stops in Aviston, Breese, Beckemeyer, Carlyle, New Baden, Trenton, and connects with the Cardinals shuttle at Kaskaskia College. It travels a fixed route Monday – Friday.  Follow the link to the shuttles page for the current shuttle schedules. SCT Schedule
---
Airports
Four airports are located within 62 miles of Carlyle.
Lambert-St. Louis International Airport
Located about 62 miles west of Carlyle. Lambert has 83 gates, serving 10 major airlines, including American, United, and Southwest. Lambert also has 15 commuter airlines, 5 on-site air cargo airlines, and two major charter companies.
MidAmerica St. Louis Airport
Located in Mascoutah, Illinois, is 30 miles west of Carlyle. MidAmerica offers opportunities for commercial cargo transportation and for passenger travel to Las Vegas and Orlando through Allegiant Air.
Greenville Municipal Airport
Located approximately 16 miles north of Carlyle on State Route 127. The Airport can handle most aircraft up through the Citation and Lear Jet classes. The Airport also provides a lighted runway, rental hangars, fueling, and mechanic and pilot services.
Centralia Municipal Airport
Located approximately 23 miles southeast of Carlyle, the airport is owned by the City of Centralia and operated by Airgo. The Airport can be contacted at 618-533-1643.
---
Tri-City Port District
Barge, Rail and Truck at One Site
Located about 50 miles west of Carlyle, the Tri-City Port District is home to a 1,200 acre site at which goods and materials can be transferred from truck, train, and barge. The Port is located on the Mississippi River and within minutes of Interstates 70, 64, 55 and 270 and 255.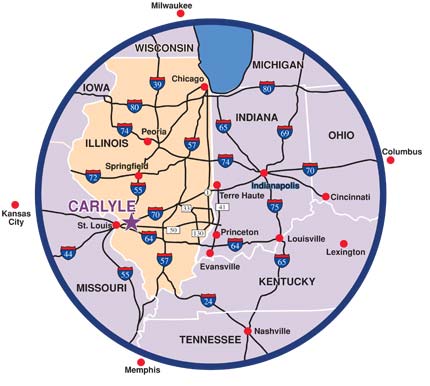 Distance From Major Cities:
St. Louis, MO
50 Miles
Springfield, IL
90 Miles
Terre Haute, IN
136 Miles
Paducah, KY
140 Miles
Peoria, IL
162 Miles
Indianapolis, IN
210 Miles
Nashville, TN
270 Miles
Chicago, IL
279 Miles
Kansas City, MO
297 Miles
Memphis, TN
298 Miles
National Distribution Map