The 2023 Cruz-in the Dam Car Show will be Friday, August 11th
Get your shine and show on with your classic, unique, rat or hot rod!  Cruisin the Dam at Carlyle Lake has expanded in the last few years! This is the largest gathering of classic cars in the St. Louis metro area. All types of classic vehicles will be there including: classic cars, stock cars, drag cars, custom bikes, and so much more. This event allows car enthusiast to cruise over the dam, shop local vendors, all while enjoying games, auctions, and delicious food. This is a family friendly event that is FREE and located at a very cool place, Carlyle Lake!
---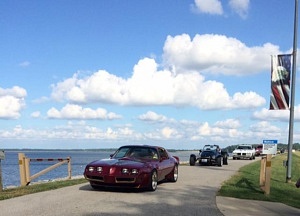 -The 1st cruise will leave Carl's Four Wheel Drive at 4:30 p.m. then Cruz to Carlyle Lake
The first 50 participants at Carl's 4-Wheel Drive will receive Dash Plaques & Goody Bags
-The main event will be held at Mariners Village from 4:30 p.m. – 10:00 p.m.
50/50 Drawing, Attendance Prizes, Fun Games, & Live Music.  Playing on the Main Stage: Burnin Bridges

-The 2nd cruise will drive across the Carlyle Lake Main Dam at 9:30 p.m.

---
This event is brought to you by :
Clinton County Car Club
The Rusty Rodz Car Club
Carl's 4-Wheel Drive
For more information call:
Carl's 4-Wheel Drive | 618-765-2199
Russell Huelsman | 618-304-3560
Brad Jones | 618-799-9699
bradjones6420@gmail.com