Carlyle residents do not have far to go for excellent health care. In fact, Carlyle is home to many health care professionals, including family physicians, dermatologist, dentists, physical therapists, and chiropractors. World-class children's and research hospitals are also just a short drive away in St. Louis.
---
Carlyle Healthcare Center – Carlyle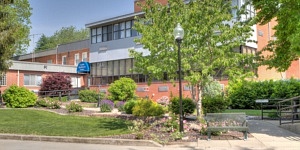 Carlyle Healthcare Center is ready to be your facility of choice, whether it be for a sort-term rehab stay, or whether you or your loved one are choosing to make it your new home. Carlyle Healthcare Center has been family owned and operated since 1969, has over 109 beds, and has a consistently strong Medicare Star rating.  They are equipped to care for a number of different health conditions.  Many of the staff receive specialized training, and maintain certifications in Dementia/Alzheimer's care, IV Therapy, Wounds, Post-Surgical Rehab, Tube Feeding, Diabetes, COPD, as well as many other areas.
Visit Website
---
St. Joseph's Hospital – Breese
Located a short 8 miles West in Breese, St. Joseph's Hospital is a valued part of the Carlyle community. St. Joseph's is an 85-bed acute care hospital with full inpatient, obstetric, surgical, and outpatient facilities. Over 400 families per year select the Women and Infants Center for their labor and delivery experience. Twice a year, St. Joseph's travels to Carlyle to perform popular health fairs and screenings. Carlyle residents often use St. Joseph's Hospital for their routine health care needs.
---
St. Mary's Hospital – Mt. Vernon & Centralia

Equally important for our communities health care needs is the St. Mary's Good Samaritan Hospital located in Mt. Vernon, and only 20 miles East in Centralia. St. Mary's is a not-for-profit corporation offering comprehensive regional health care in a nine-county area, including Clinton County. The Centralia hospital maintains 180 beds. St. Mary's primary services include emergency care, medical/surgical, oncology, neurology, obstetric, cardiology, pediatric, and more.
---
Local Health Care Providers
Convenient Care
St. Joseph's Hospital
14505 State Route 127
618-594-4949
Visit Website
Integrated Medical Group
2111 West Lake Drive
618-594-4500
Visit Website
Carlyle Hearing Center
811 Fairfax Street
618-594-4966
Visit Website
Dr. Chris Rivera
Internal Medicine, Pediatrics
1110 Mullikin Street
618-594-3613
Dr. Alberto Butalid
Internal Medicine
14505 State Rt. 127
(Convenient Care Building)
618-594-8924
Dr. Hyten
Dentistry
651 9th Street
618-594-4288
DeAnna DuComb, M.D.

Dermatology
1210 Jefferson Street
618-594-2454
Visit Website
The Healthcare Foundation
P.O. Box 462
618-594-7901
618-526-0080
Marion Eye Center
Optometry
1950 Franklin Street
800-344-7058
Visit Website
Therapy-Learning Clinic
Speech Therapist
1090 Jefferson Street
618-594-5561
Clinton County Health Department
Public Health
971 Fairfax Street
618-594-8942
Visit Website
Clinton County Senior Services
630 8th Street
618-594-2321
Visit Website
Community Resource Center
Mental Health
580 8th Street
618-594-4581
Visit Website