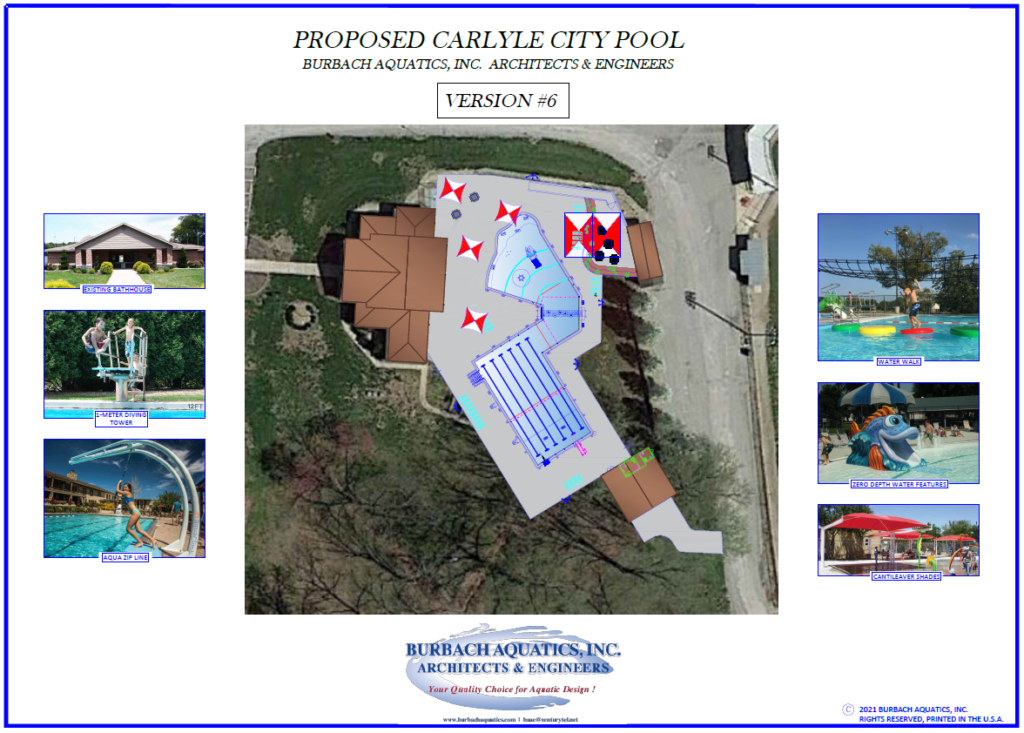 ---
The City of Carlyle's Swimming pool was originally built in 1955. Over the years, recreation activities have evolved and the current state of the City's Swimming Pool is in need of revitalization.
The City of Carlyle is looking forward to bringing a new aquatic facility to our town. The new facility will feature a zero-depth entry with multiple new recreational features for all ages, a six-lane competition pool, and it will be fully ADA accessible for people of all ages and abilities. The facility will also utilize the existing pool house.
Burbach Aquatics and Holland Construction are currently finalizing the details of the new pool facility, with plans for demolition starting in September 2023. The hope of the City of Carlyle is to have construction finished by Memorial Day weekend 2024.
---
Aquatic Facility Funding 
The Pool Committee proposed funding the new aquatic facility through a combination of a capital/donation campaign, grant funding, and a 0.5% increase in sales tax.
In a collaboration with many businesses, civic organizations, and volunteers throughout Carlyle, and the outlying region, a capital/donation campaign will be utilized to help raise funds solely for the Swimming Pool Revitalization process. Please be on the lookout for any fundraising events taking place.
During the June 28, 2022 election, voters approved the referendum by a 428 to 122 vote, for a 0.50% sales tax increase for improvements to the Carlyle City Pool. This increase will equivalate to $0.50 for every $100 dollars spent within the City of Carlyle. The city's sales tax rate increased from 6.75% to 7.25% as of January 1, 2023. Residential property taxes were not impacted by this vote.
---
Volunteering and Donations
If you wish to become a volunteer or to donate, please contact the Park Director at 618-267-7686 or the City Administrator at 618-594-5204 or admin@carlylelake.com