Mariner's Village Resort & Cabins
#1 Resort Drive
Carlyle, IL 62231
Phone: 618.594.7666
Fax: 618.594.7676
Email: resrvcarlyle@gmail.com
Mariner's Village at Carlyle Lake offers quality accommodations for those looking for an escape from busy schedules and work deadlines. As the largest man-made lake in Illinois, Carlyle Lake offers endless possibilities to take part in activities you love, but may not be able to do on a regular basis. Activities include fishing for over 30 different species including plentiful bass, bluegills and walleyes, testing your endurance on Carlyle Lake bike trail, hunting waterfowl and other wild creatures, or challenging yourself with sailing.
We also offer a private island where a small group event or ceremony with up to 100 people can be easily organized. The Island can also offer a unique venue for wedding or new year celebrations. Come and explore the unlimited possibilities. With a diverse choice from hotel rooms and cabins, we offer a complete package for your next major event.
Mariner's Village at Carlyle Lake is situated at the Dam West Recreation Area, just minutes from top sites like Governors Run Golf Course and Eldon Hazlet State Recreation Area. Our property offers the traditional hotel experience with guestrooms and suites as well as rustic Carlyle Lake cabins perfect for group or family retreat. Our hotel amenities include everything you need to feel right at home like a flexible pet policy, wireless Internet access, complimentary breakfast, and suites that offer an in-room microwave, refrigerator, coffeemaker, and more! Other amenities include our outdoor swimming pool and Conference Center that can accommodate up to 400 people. Join us at Mariner's Village at Carlyle Lake for an experience like no other.
For Your Convenience:
Complimentary breakfast served daily at hotel
On-site restaurant available for lunch, dinner, and room service
Outdoor swimming pool
24-hour coffee in hotel lobby
Personal items by request such as shampoo, toothbrush and paste, etc.
Private Pond and Island for events like wedding, parties etc
Pets welcome in hotel portion of property and in designated rooms only
Banquet & Conference Center
Accommodates smaller groups or up to 400 people
Catering services available
Boat Charging ports in parking lot
Hotel Guest Suites:
Lake View Rooms
Wireless Internet access
ADA compliant rooms
Refrigerator
Microwave
Sink
Coffeemaker
---
Carlyle Lake Cabins
The most unique thing about Mariner's Village at Carlyle Lake are the famous rustic cabins facing our own private lake. The rustic feel of our cabins can be the perfect addition to an outdoor retreat for youth, adults, businesses, and for those traveling as a family or in groups. Our cabins are perfect spots for group or individual retreats or for those wanting to have an outdoor, scenic wedding ceremony near comfortable lodging accommodations. Contact us today to plan your next getaway!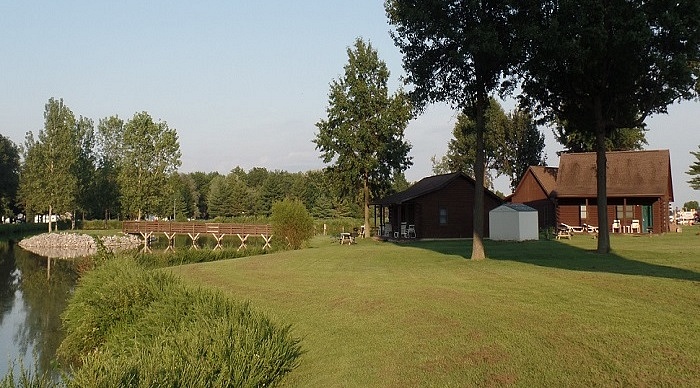 ---