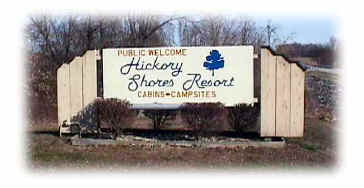 Ralph Rakers is proud to be your on-site manager of Hickory Shores Resort. We will greet you as you register into the park and will provide you with information to make future reservations.
We want to make your camping experience exciting and fun, so please let us know if you have suggestions or comments about the park. We hope to make you want to come back!
Hickory Shores has been active for more than 25 years but only recently became a public park. We hope you come to love this park as we do. Make it a yearly destination for your family fun! Our main season is April through October, but we are open for camping all year round and our cabins are available all year long also.
Our motto is…..
Take nothing but pictures….Waste nothing but time….Leave nothing but footprints!
We want to be sure everyone enjoys Hickory Shores Resort.
Get Your Annual Site today! Only $1595.00 for 365 days worth of camping! That's only $4.37 per day for a Full Hookup site at our resort!
Or $1395.00 for 365 days worth of camping on a water&electric only site! That's only $3.82 per day!
Below is a list of our cabins and how many guests they will accommodate.
Accommodates 4 guests
The Redneck Cabin (#1)
Lost in the 50's (#2)
The Titanic (#3)
The Hole in One (#4)
The Wonderful Land of Oz (#5)
Roar of the Jungle (#6)
Message in a Bottle (#7)
Gone with the Wind (#8)
Robin Hood (#9)
Deer Hunter's Delight (#10)
The Howling Hideout (#11)
The Fishing Hole (#12)
The Bear Claw Cabin (#13)
Accommodates 4 adults and 3 children
Alice's Wonderland (L)
Accommodates 8 guests
The Moonlight Manor (#14)
The Sunset Chalet (#15)
Contact
Call 618-749-5288 or email us to book your stay with us today!
We look forward to seeing you soon!
Visit Website