WINONA STATE UNIVERSITY WINS FLW COLLEGE FISHING CENTRAL CONFERENCE CHAMPIONSHIP ON CARLYLE LAKE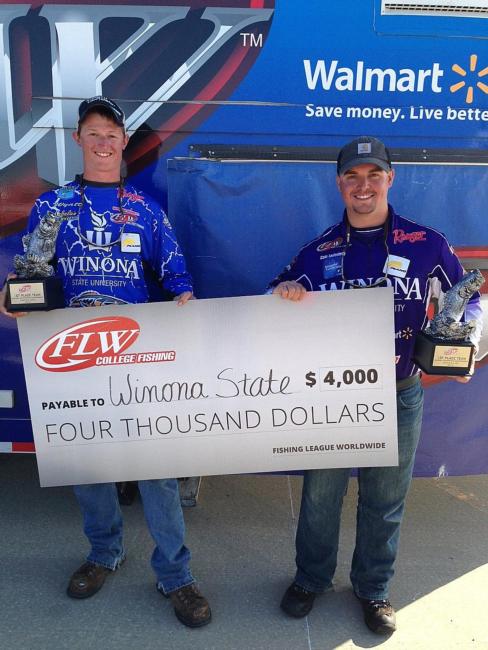 CARLYLE, Ill. (Oct. 4, 2015) – The Winona State University team of Cade Laufenberg of La Crosse, Wisconsin, and Wyatt Stout of Winona, Minnesota, won the FLW College Fishing Central Conference Championship on Carlyle Lake Sunday with a two-day total of four bass weighing 12 pounds, 6 ounces. The victory earned the club $4,000 and qualified the team for the 2016 FLW College Fishing National Championship.
The tournament was extremely tough for the college anglers – only eight teams managed to weigh in a fish on the first day of competition and advance to day two. Only one team – Illinois State University – managed to catch a fish on the second day of competition.
"This is a big win for me," said Laufenberg, a senior majoring in Individual Studies. "If we didn't qualify for the National Championship, this would've been my last tournament as a collegiate angler."
"Coming into this tournament, our main goal was to qualify to fish for the national title," said Stout, a junior majoring in Biology. "If we didn't produce, we were done. That was the mindset we stayed in throughout the weekend."
Laufenberg said the duo originally planned on fishing riprap Saturday but changed their strategy when they stumbled onto a ripe creek point on the southwest corner of the lake.
"We looked at our graphs and noticed there were a bunch of submerged stumps along a drop, about 50 yards from shore," said Laufenberg. "It looked like one of those perfect spots where we figured fish would migrate to."
The duo said they dragged a green-pumpkin Lethal Weapon Jig rigged with a Zoom Speed Craw and a brown and black-colored jig with a PowerBait Chigger Craw.
"Every time we found a piece of cover like a log we made 10 or 12 casts to it from different angles," said Stout. "We milked the area for everything it was worth and caught our four stringer fish fairly quick."
The team said they followed the exact same pattern on Sunday but were unable to catch any keepers.
Because only eight teams caught fish, only eight teams will advance to the College Fishing National Championship from the Central conference.
The top eight teams that advanced to the 2016 FLW College Fishing National Championship are:
1st: Winona State University – Wyatt Stout, Winona, Minn., and Cade Laufenberg, La Crosse, Wis., four bass, 12-6, $4,000 Club Scholarship
2nd: Illinois State University – Bryce Wegman, Normal, Ill., and Taylor Umland, Gridley, Ill., three bass, 7-7, $2,000 Club Scholarship
3rd: Southern Illinois University – Steve Seiler, Mokena, Ill., and Kyle Wagner, Waterloo, Ill., three bass, 6-11, $1,000 Club Scholarship
4th: Kansas State University – Kyle Alsop, Overland Park, Kan., and Taylor Bivins, Manhattan, Kan., two bass, 4-6, $1,000 Club Scholarship
5th: Kansas State University – Quinn Fowler, Olathe, Kan., and Dylan McKee, Abilene, Kan., two bass, 4-1, $1,000 Club Scholarship
6th: University of Wisconsin-Stevens Point – Samuel Sobieck, New Prague, Minn., and Connor Graham, Stevens Point, Wis., one bass, 3-3
7th: University of Wisconsin-Platteville – Grant Ehlenfeldt, New Richmond, Wis., and Brett Stanek, Elroy, Wis., one bass, 2-4
8th: Kansas State University – Lance Maldonado, Junction City, Kan., and Ethan Dhuyvetter, Manhattan, Kan., one bass, 1-12
Complete results can be found at FLWFishing.com
The FLW College Fishing Central Conference Championship was hosted by the City of Carlyle.
FLW College Fishing teams compete in qualifying tournaments in one of five conferences – Central, Northern, Southern, Southeastern and Western. The top fifteen teams from each regular-season tournament will qualify for one of five Conference Championship tournaments. The top ten teams from each of the five Conference Championship tournaments will advance to the 2016 FLW College Fishing National Championship.
College Fishing is free to enter. All participants must be registered, full-time students at a college, university or community college and members of a fishing club recognized by their college or university.
For regular updates, photos, tournament news and more, follow College Fishing on Facebook at Facebook.com/FLWFishing and on Twitter at Twitter.com/FLWFishing. Visit CollegeFishing.com to sign up or to start a club at your school.
ABOUT FLW
FLW is the industry's premier tournament-fishing organization, providing anglers of all skill levels the opportunity to compete for millions in prize money nationwide in 2015 over the course of 240 tournaments across five tournament circuits, four of which provide an avenue to the sport's richest payday and most coveted championship trophy – the Forrest Wood Cup. FLW tournament fishing can be seen on the Emmy-nominated "FLW" television show and is broadcast to more than 564 million households worldwide, making it the most widely distributed weekly outdoors-sports television show in the world. For more information about FLW visit FLWFishing.com and look for FLW on Twitter, Facebook, Instagram and YouTube.