CUSA Pro Division Victory at Carlyle Lake, IL goes to Team Turner
Ron and Mont Weaber take Amateur Division.
Louisville, KY – June 9, 2019 – Crappie anglers from several states traveled to Carlyle Lake, IL to participate in a Crappie USA (CUSA) event. The June 8, 2019 event was presented by Bass Pro Shops Cabela's. Local and traveling anglers fished for cash, prizes, and an opportunity to compete at the 2019 CUSA Classic which will feature a guaranteed payout of $125,000 in cash and prizes.
A flooded and muddy lake made fishing very tough. Anglers dealt with scattered storms throughout the area all weekend long resulting in periodic rain to make things challenging. Add in the north winds at 10-20 mph and it could not have been much worse for the fishermen. North, rains moved in at weigh-in time sending many teams home early.
A total of 18 boats fished the Carlyle event—19 in the Pro Division and 9 in the Amateur Division. A total of $5,525 was distributed to the winners.
Pro Division Results
The top spot went to B'n'M Pole's Paul Turner from Covington TN. Turner fished solo to weighed a 4.6-pound bag to take the win and earn a check for $1,400.00. His bag included a 1.29-pound fish that took Big Fish honors.
Turner fished the west side of the lake in the first cove above the dam. He caught around 9 or 10 fish on the day but weighed only 4 after losing a couple of good ones.
"Prefishing was really tough where I had great success before," reported Turner. "I didn't find a lot of fish, so I tried a few more brush piles where I thought I could get my seven. I found some quality fish."
"When the tournament started I just targeted brush piles that had a few fish on them," continued Turner. "The piles were on the main lake with 3-foot waves so I singled pole them with a drop shot rig. I came up with a few fish but had 3 die because they came from deep water and they got beat up pretty bad crossing the lake."
"Carlyle has some really good fish," Paul said. "There are lots of big black crappie. The fish were just not feeding well this weekend. It was bad rough out there. I weighed my 4 and the cards fell my way."
Turner ended by thanking his sponsors, War Eagle Boats, B'n'M Poles, Turnerfishing.com, and Crappieholic.
The runner up spot went to Tony and Ling Grooms from Murray, KY. They brought 3.58 pounds to the scales to earn a check for $600.00.
Tony and Ling fished in the back of several different coves early then moved to the main lake later in the day. The Kentucky anglers used homemade crappie rigs and dark colored jigs in red, black, and brown colors to catch 5 fish for the day.
Patrick Stone from Anderson, IN and Steve Jeffers from Wabash, IN weighed 1.87 pounds to claim the third-place spot. Stone and Jeffers earned a check for $400.00. They were one of the teams that left before the awards presentation because of the heavy rain.
Fourth place went to Steve Ferguson from Puryear, TN and Frank Finley from Murray, KY. They had a tough day too, weighing in 1.47 pounds to earn third. They also earned a $250 Ranger Cup Bonus.
Ferguson and Finley challenged the lake with different methods. They fished all over the lake in deep and shallow water using artificial baits. Despite their efforts, given the fishing conditions, they managed to catch only 2 fish for the day.
Shawn Gore from Almo, KY and Joey Peck from Murray, KY rounded out the top five with 1.1 pounds which was also the second big fish and earned them $120.00.
Amateur Division Results
Ron and Mont Weaber took the top spot in the Amateur Division with 5.52 pounds. The St Elmo, IL team earned a check for $700. They added $500 for the Talon Bonus and $100 for the Jenko Bonus.
Team Weaber was spider rigging on the east side of the lake in Cove Creek. They targeted 10 foot of water using dark color jigs tipped with minnows. Their tactics caught them a total of 9 fish for the day under extreme conditions
Joe Haake from Bartelso, IL fished solo to take the second-place spot. He brought 4.9 pounds to the scales to secure the runner-up spot. He earned a check for $300.00.
Haake fished the SE portion of the lake over brush and wood structure. He used various colored jigs in 10 to 12 feet of water. He caught about 10 fish for the day, indicating that orange worked best for him.
The third spot went to Bob Denen and Tony Domitrovich. Denen, from Youngstown, OH and Domitrovich, from Dubois, PA, had a 1.1-pound bag to earn a check for $200. They added another $125 for a Ranger Cup Bonus.
The team fished the west side of Lake Carlyle in Sailboat Harbor against the breakwall. They were spider rigging in 10 feet of water using live bait. Their winning fish was the only one they caught all day.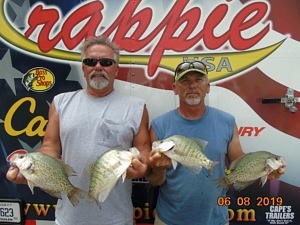 ---
Epilogue
Darrell Van Vactor, CUSA Operations Manager, sent special thanks to the city of Carlyle for all their support in hosting the event.
"Conditions were rough at best," reported tournament director Darrell Van Vactor. "The Muddy waters, high winds, flooded conditions, rain off and on all day, and fish in post spawn pattern, had anglers working hard to catch any fish. It was a day where only the very patient could hang in there all day."
The CUSA Classic Championship will be held October 23 – 26, 2019 on Old Hickory Lake, Gallatin, TN. It features a guaranteed payout of $125,000 in cash and prizes.
National Sponsors
National Sponsors of Crappie USA are: Bass Pro Shops Cabela's, Ranger Boats, Mercury Marine, Mustad Hooks, Minn Kota, Humminbird, Talon, Lake Master Maps, Gamma, B'n'M Poles, Driftmaster Rod Holders, Ego Nets, Xtreme Bait Systems, Cumberland Crappie Double Seats, Brushpile Crappie, Charlie Brewer Slider, Crappie Now Magazine, Church Tackle Co., Jenko Fishing, Big Bite Baits, Lake Cumberland CVB, Crappie Magnet, AWD Baits, EFX Graphics, Fin n' Frames, Crown Trophy, JR Madd Breading, and Freaky Franks Tackle.
For more information on the Classic and other CUSA events visit the website at  www.crappieusa.com and Crappie USA Tournament Trail Facebook Page. The CUSA office is available by phone at 502-384-5924.