Help us celebrate the 50th Anniversary of Carlyle Lake!!
Visit the official event website for all of the exciting events taking place over June 9-11, 2017.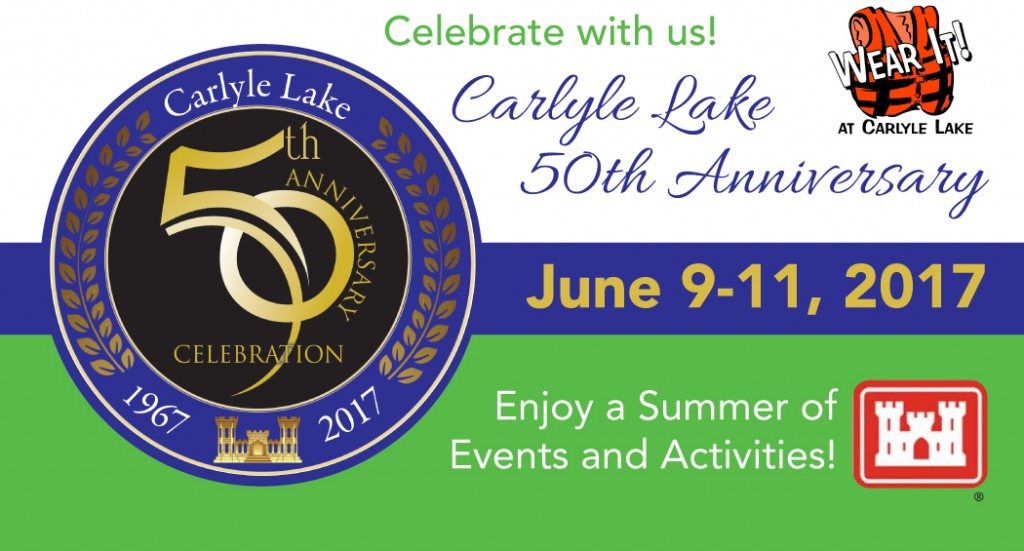 Camping at Carlyle City Park
The City of Carlyle is allowing tent camping at the Carlyle City Park during the weekend of June 9-11. We have 20 camping spots available for $20 per night with a minimum two-night stay. In order to reserve a spot, campers will need to sign the agreement and pay the required fee at Carlyle City Hall prior to check-in time. Call 594-2468 with any questions.
Schedule of Events
Friday, June 9th
4:00 p.m.
Dam West Overflow Boat Ramp | Carnival Opens
5:00 p.m. – 6:00 p.m.
Carlyle Lake Administration Office | The Moving Wall Opening Ceremony / 50th Anniversary Kickoff
6:30 p.m. – 8:00 p.m.
Main Stage | Soulard Blues Band
8:30 p.m. – 11:00 p.m.
Main Stage | David Gerald
Saturday, June 10th
7:30 a.m. – 9:30 a.m.
Main Dam West Side Entrance | Carlyle Lake 5k Run/Walk Across the Dam
10:00 a.m. – 11:30 a.m.
Main Stage | Carlyle Lake Commemoration Ceremony
12:00 p.m. – 1:30 p.m.
Main Stage | Beaucoup Bottom Band
12:00 p.m. – 12:45 p.m.
Small Stage | Reptile Experience – Serengeti Steve
1:00 p.m. – 2:00 p.m.
Small Stage | Little Mr. & Miss. Carlyle Lake Pageant
1:30 p.m. – 2:00 p.m.
Main Stage | Adam Lindquist Impersonator – President Teddy Roosevelt
2:00 p.m. – 2:45 p.m.
Small Stage | Bob Tarter – Natural History Education Co. of the Midwest
2:00 p.m. – 3:30 p.m.
Main Stage | John Joseph Shanahan
3:00 p.m. – 4:00 p.m.
Small Stage | Carlyle Animal Hospital – Pet Show Parade
3:30 p.m. – 4:00 p.m.
Main Stage | Bob Tarter – Natural History Education Co. of the Midwest
4:00 p.m. – 4:45 p.m.
Small Stage | Reptile Experience – Serengeti Steve
4:00 p.m. – 5:30 p.m.
Main Stage | Eskimo Brothers
5:00 p.m. – 5:45 p.m.
Small Stage | Bob Tarter – Natural History Education Co. of the Midwest
5:30 p.m. – 6:30 p.m.
Main Stage | Reptile Experience – Serengeti Steve
6:30 p.m. – 8:00 p.m.
Main Stage | Whiskey Dixon
8:30 p.m. – 10:00 p.m.
Main Stage | Drew Baldridge
Sunday, June 11th
10:00 a.m. – 11:30 a.m.
Main Stage | John Schlitz
11:00 a.m. – 11:45 a.m.
Small Stage | Brian Fox Ellis – The Comic Mis-Adventures of Lewis & Clark
11:30 a.m. – 12:30 p.m.
Main Stage | Riker Band
12:00 p.m. – 12:45 p.m.
Small Stage | Babaloo
12:30 p.m. – 1:00 p.m.
Main Stage | Brian Fox Ellis Impersonator – John James Audubon
1:00 p.m. – 1:45 p.m.
Small Stage | World Bird Sanctuary – Birds of Prey
1:00 p.m. – 2:30 p.m.
Main Stage | Mike and Joe
2:00 p.m. – 2:45 p.m.
Small Stage | Brian Fox Ellis Impersonator – John James Audubon
2:30 p.m. – 3:00 p.m.
Main Stage | World Bird Sanctuary – Birds of Prey
3:00 p.m. – 3:45 p.m.
Small Stage | Babaloo
3:00 p.m. – 4:30 p.m.
Main Stage | Head East
6:00 p.m. – 7:00 p.m.
Carlyle Lake Administration Office | The Moving Wall Closing Ceremony